How to Order LUBESAFE Minilab & Sample KIT

HOW TO ORDER THE LUBESAFE SAMPLE KIT
To order, contact you 24/7 Customer Service.
Order the LubeSafe sampling kit via your usual UniMarine Sales Executive
Pick up the LubeSafe kit including a detailed user guide at your next port of call
Collect and label the required used oil samples
At the next port send in the filled-in samples via the pre-paid DHL airway bag
Expert marine engineers analyze your samples in the laboratory
Open your vessel file on the LubeSafe website, using your personal ID and password and see your detailed reports, last results and recommendations by our marine experts for your timely preventive maintenance actions.
Compare results with used oil analysis historical data in the online database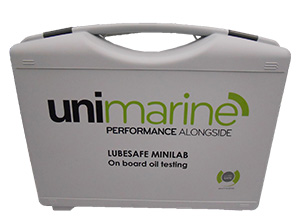 HOW TO ORDER THE LUBESAFE MINILAB
Order LubeSafe Minilab and its reagent conveniently at any port of call with your marine lubricants replenishment order or separately.

To order, contact you 24/7 Customer Service.