lubesafe minilab

Increased focus on preventive maintenance, reduction of downtime and cost savings in operations requires regular monitoring of used oil in service condition to allow immediate decisions if oil deterioration occurs or when oil status parameters have gone down below acceptable limits.
Designated to support the work of marine engineers on board and with the focus on preventive maintenance, the LUBESAFE Minilab is the right tool to help controlling the operational conditions of your machinery equipment on board and is the perfect complement of LUBESAFE Global Used Oil Analysis services.
This newly developed oil test case contains all the testing devices which enable marine engineers to test and assess the most important parameters of the marine lubricants in service on board. Gathered in a water resistant plastic case the LUBESAFE Minilab has been created with vessels operating at sea conditions in mind and grant the marine engineers on board with the autonomy required in performing critical assessment of the status of the marine lubricant in service. Multiple testing reagents, sampling recommendations, test devices operation and tests' results interpretation advices are conveniently included
TESTS AVAILABLE WITH LUBESAFE MINILAB
VISCOSITY TEST
This simple but essential test is detecting typically a dilution of 5-10% distillate fuel in a 4 strokes mid-speed diesel main or generator engine (SAE 30 or 40 marine Lubricant). It also allows for the detection of an increase in viscosity due to contamination. LUBESAFE ViscoCheck device provides simple OK/ NOT OK result.


INSOLUBLES TESTING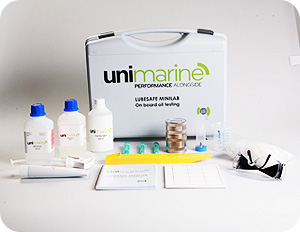 Testing engines oils regularly for Insoluble content will contribute to the prevention of cylinder liners and bearings wear, sticking of pistons and lacquers formation on hot surfaces. Chromatography papers are simple to use and will provide accurate assessment of insoluble content in the tested oil.


WATER CONTENT
Testing regularly engine oils in service for water content allows for efficient prevention of cavitation or corrosion of your equipment thus avoiding costly machinery downtime. It is highly recommended to test water content of your marine engine oil at sampling points situated before and after the lubricants purifier and to repeat this testing on regular intervals.


BASE NUMBER (BN) TESTING

One of the essential functions of the engine oil is to neutralize the acids resulting from the fuel combustion in order to prevent corrosion: hence regularly testing the engine oil in service for its alkalinity reserve (BN) will provide critical indication to the marine engineer on board on this essential parameter.
The test results provide a reliable indication of the performance of engine oils and other auxiliary marine lubricants at any time required and come particularly when emergency does not allow your crew to wait upon receiving the full report from LUBESAFE used oil analysis service.
Efficient monitoring of Marine Lubricants conditions on board
Essential for preventive maintenance decisions
Contributes to costs savings and avoiding machinery downturn
Perfect complement to LUBESAFE Global used oil analysis services
Water Resistant, Autonomous, perfectly designed to operate at sea
The LUBESAFE BN & WATER testing digital device design has been created with the user's comfort and easy handling in mind: its electronic display gives step by step clear instructions for intended testing and its memory will record test results as long as needed. The robust case and screen is fit for easy crew handling even in rough operating conditions. Using the latest technology available for enhanced results accuracy, this LUBESAFE electronic testing device is also the easiest to clean of its generation.